The Pharmacy For You
Our expertly trained pharmacists and friendly staff pride themselves on making sure your pharmacy experience exceeds expectations.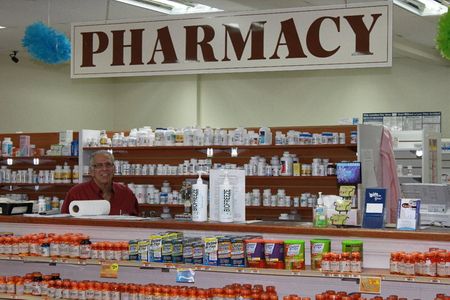 Enjoy the charm of Ira's Discount Pharmacies along with the personalized service that comes along with every visit to one of our two convenient locations. We are located in the Boca Ray Plaza, near Poppies Restaurant & Deli, and just across the street from the Delray Medical Center.
We accept most insurance and discount plans and provide FREE Delivery.
Excellent prescription and over the counter pricing. We will meet or beat any local competition
Florida Lottery tickets
Notary Public of Florida
Accept Medicare assignment and almost ALL prescription drug plans
Full Selection of Gift Items and Greeting Cards
SNOWBIRDS-We can send your medications to your Summer address
Jewelry Line
FREE delivery of prescriptions twice a day includes one delivery on Saturday
We offer a full range of medical equipment, post surgical supplies surgical stockings, gifts, cards and so much more.
George Drogaris
R.PH, Owner and Diabetic Educator
George is the proud owner of Ira's Discount Pharmacy and has over 35 years of pharmacy ownership experience. He's committed to improving Delray Beach's healthcare experience.
Prokopios "KOKO" Panagakos
Since 2007 Koko has been at the center of it all . His knowledge of pricing and the nuances of each insurance plan, helps us keep your medications costs as low as possible.
Arnie S
R.PH, Pharmacist in Charge
As our Pharmacist in Charge, Arnie has worked with us for many years and will take the time to answer all your questions and concerns.
Sue P.
R.PH
Sue is one of the most knowledgeable and personable Pharmacists you will ever meet. She's always happy to help.
Mel L.
R.PH
Mel is another one of Ira's Discount Pharmacy personable and amazing pharmacists.
Zach
Pharmacy Technician
Zach is one our amazing pharmacy technicians. He can answer all your questions and is always happy to help out a patient.
Lisa
Pharmacy Technician
Lisa's outgoing personality and pharmacy expertise has made her a valuable asset to our pharmacy family.
Samantha
Pharmacy Technician
Samantha is another of our pharmacy technicians. She knows the value of our patients time and always helps as quickly as possible.
Our Durable Medical Equipment Expert
Sheila
Sheila makes sure your customer experience top notch. She can help fit you with surgical stockings, the correct walker or wheel chair. In addition to this, she always makes sure our gifts are unique and affordable.